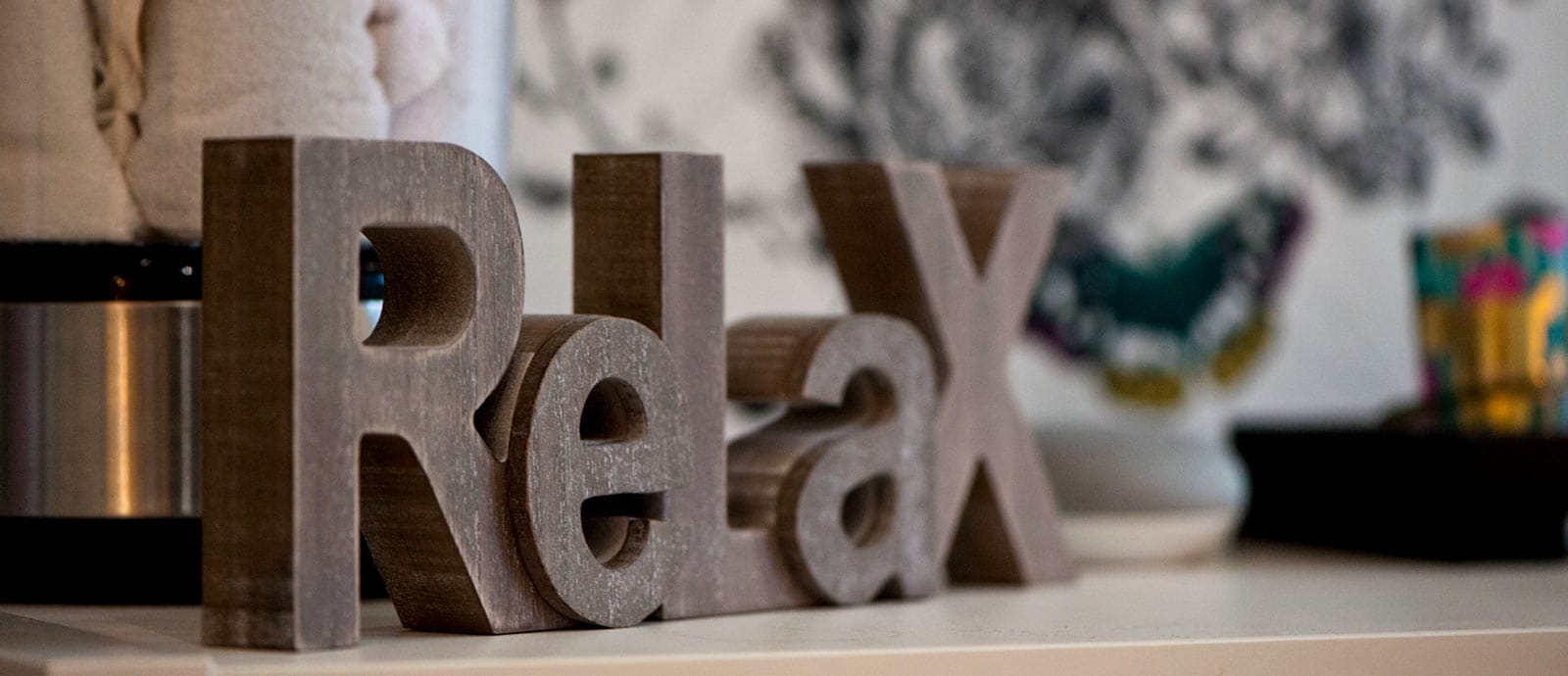 Holistic & Massage
Indian Head Massage (45 mins) – €60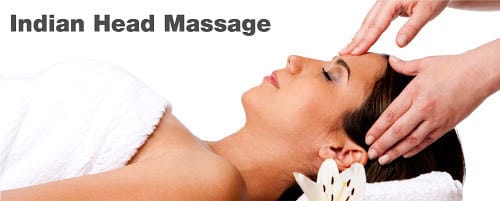 Indian head massage is a piece of relaxation heaven originating from the ancient Ayurveda healing system. This is an ideal treatment for clients suffering from stress, aching shoulders, tight neck, eye strain, headaches, insomnia, poor concentration and hair loss. Indian head massage requires a combination of massage techniques and rhythms to stimulate and help restore the natural flow of energy and release negativity and stress. This type of head massage focuses on massage of the soft tissues in the upper back, shoulders, arms, neck, scalp and face.
---
Ear candling (45 mins) – €50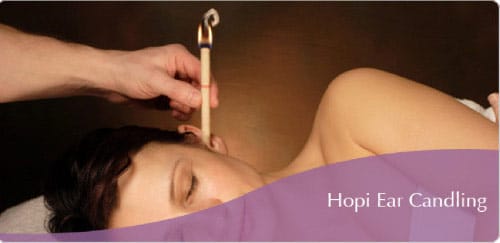 Hopi ear candling is a pleasant and non-invasive treatment of the ears. It is used to offer real and calming benefits for many problems and conditions associated with the ear, nose and throat areas. A Hopi ear candle treatment is a deeply relaxing, calming and soothing experience. A typical treatment is 30 to 45 mins long. The client is fully clothed and lies comfortably on the massage table. The process involves a specially designed hollow candle being inserted just inside the ear canal. The Hopi candle is then lit and creates a chimney effect. The warm smoke gives the ear drum a gentle massage and the rising air helps to regulate the ear pressure. The warm smoke gently softens and loosens wax in the ear and the chimney effect encourages it to move closer to the ear opening. This treatment is not designed to completely remove wax, but in many cases, it can gently encourage the natural processes of the ear for up to 48 hours after. A 45 minute treatment includes massage, and lymphatic drainage to aid in clearing of the sinuses and relieving tension in the jaw and neck.
---
Holistic Massage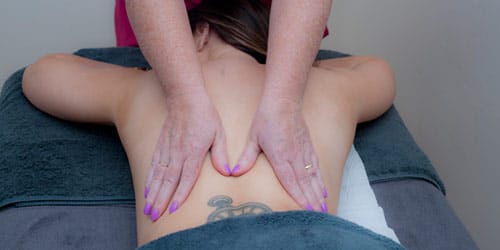 Massage is one of the oldest healing traditions. Massage therapy is the practice of kneading or manipulating a person's muscles and soft tissue in order to improve their overall wellbeing. Massage is effective for reducing muscle tension, improve circulation, stimulate the lymphatic system, reduce stress, promote relaxation, increase joint mobility and flexibility, improve skin tone, heighten mental alertness and reduce anxiety and depression. Holistic massage is a nurturing process of touch and response. The treatment is adapted to the clients' unique needs, physical characteristics and personality. A holistic massage therapist will engage with each client, assessing needs and including physical, mental and emotional factors. The massage may include classical Swedish techniques such as effleurage, petrissage, kneading, friction and wringing while also using gentle hand holds and drawing on the healing traditions and an awareness of the human energy field.
Back Neck & Shoulder massage (30mins) – €45
Full Body massage (50mins) – €60
Deluxe Back Neck & Shoulder massage including hot stones (40mins) – €55
Deluxe Full body massage including hot stones (60mins) – €75
---
Hot Stone Massage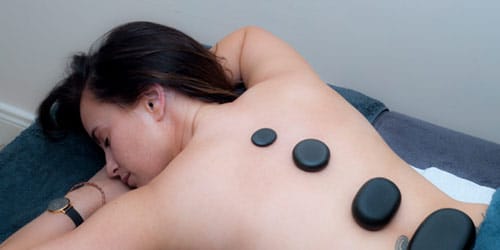 Hot stone massage therapy helps melt away tension, ease muscle stiffness and increase circulation and metabolism. Hot stones when couples with massage also help to expand a blood vessel which encourages blood flow throughout the body. The heat and smoothness of the stones rolling over the body help to release tension allowing the muscles to be worked more effectively. A hot stone massage is best for clients with very tense muscles in need of extreme relaxation. Clients have described the sensation of the hot stone massage as being comparable to a heating pad.
Hot Stone Full body massage (50mins) – €80
Hot Stone Back, Neck & Shoulder massage (30mins) – €60
---
Touch therapy (60 mins) – €70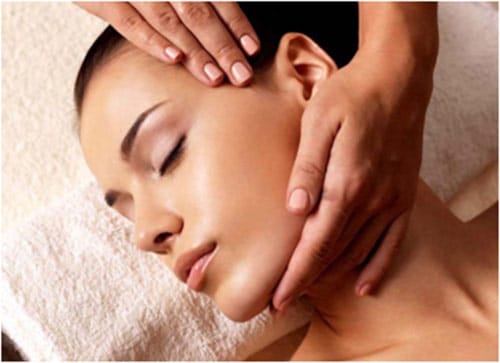 Touch therapy is a gentle hand on therapy ideal for clients who are going through cancer treatment, recuperating from recent surgery or dealing with trauma in their lives. The treatment is 60 mins and involves a detailed consultation allowing the therapist to tailor the therapy session to your individual needs. A combination of gentle massage, reflexology and reiki can be used during the session to help alleviate discomfort and decrease stress levels.
---
Reflexology – NRRI Registered (45 mins) – €50
We are a registered member of the National Register of Reflexologists Ireland – this means that reflexology treatments at Beauty by Katrina can be re-imbursed with your own private health insurance by Layla Healthcare, VHI Healthcare & Irish Life Health.
Reflexology is a treatment based on the principle that there are areas and points on the feet, hands and ears that are connected through the nervous system to corresponding parts of the body. When pressure is applied to these areas and points it stimulates the movement of energy along the nerve channels and helps to restore homeostasis balance in the body. A reflexology treatment can induce a state of calm throughout your body and mind improving sleep patterns and helping the body to return to its normal, healthy rhythms. As our bodies age the nerve endings become less sensitive particularly in the extremity parts of our body. Opening up and cleaning out neural pathways can help improve functionality and flexibility of nerves and cells in various organs of the body. This clearing allows information to flow much faster and more effectively to the brain which would result in a much faster cognitive and physical reactions and boost your memory. The most well-known benefit of reflexology is an improvement in blood circulation throughout your body which increases the amount of oxygen reaching vital organs systems resulting in faster healing and regrowth. The improved circulation also benefits the body in aiding the elimination of toxins.

---
Pampering Facial (75mins) – €95
This luxurious treatment is as it says an utterly pampering and relaxing treatment which combines a facial, foot ritual and neck, back & shoulder massage. The added bliss of combining 3 treatments into 1 it is truly heaven!
---
Pregnancy Massage BASQ NYC
BASQ in the Moment Pregnancy Massage (75 mins) – €80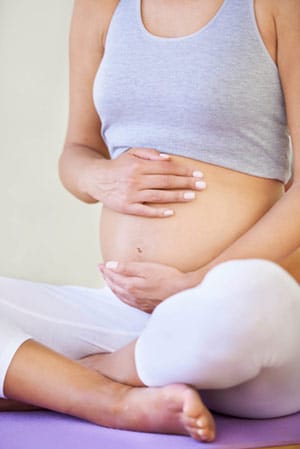 A customised indulgent full body massage using safe prenatal techniques for Mum and Bump. This massage will help relax, reduce fatigue, release tension, aches, pains and swelling all associated with pregnancy. This massage will help increase circulation and benefit mum-to-be.
---
BASQ Baby Bump Treatment (45 mins) – €50
This treatment is designed to reinforce the skin with deep hydration and a mega dose of nourishment that targets scars and marks and also helping with the tone of elasticity of Mum's Bump. The skin is exfoliated with dry brushing followed by an application of BASQ Lavender Perfect Scrub. Next the skin is treated to a layering of stretch mark oils and butter which work to replenish deep down soothing the skin. While these absorb the lower legs are treated to a massage to assist the circulation and reduce swelling.
---
BASQ Head to Toe Experience (90 mins) – €95
A complete head to toe spa experience to include Head, bump and lower legs. We rub and tickle every ache and pain away whilst improving the tone and elasticity of Mums skin. To begin melt the stresses away with a relaxing head, neck and shoulder massage to release tension. Following this is a treat for the bump, where gentle dry brushing increases circulation followed by exfoliation to remove dead dull cells to improve the tone and elasticity of the skin. Next our BASQ resilient body oil and mega moisture butter are applied to treat the sin to prevent stretch marks. While the cream absorbs and takes affect you are treated to a lower leg exfoliation and foot massage to reduce swelling and stimulate circulation.
---
BASQ tired legs soother (30 mins) – €40
Walk in, float out as the lower legs and feet are treated to an exfoliation and massage with luxurious salts and oils. An exfoliation and lower leg and foot massage to improve circulation and improve any swelling and heaviness in the legs associated with pregnancy. Whilst the legs are wrapped you are treated to a relaxing scalp massage. It's a wonderful treatment for giving your mind and body a rest.